Millennials, Streaming, Rubik's Cubes and Apps – a report from the 2016 asi International Conferences

Richard Marks, our Research Director, looks at the main themes at our recent International Radio & Audio and TV & Video Conferences in Budapest
The asi conferences serve as a pretty useful annual 'state of the nations' debate about what issues are keeping the industry awake at night. Last year, the Television Conference could best be summed up in two phrases: 'hybrid methodologies' and 'under construction'. The research agencies and their clients seemed to be in violent agreement that the way forward was not measurement panels or Big Data (RPD and online), but a combination – a blended fusion – of the two.
However, as I commented in this column last year, a lot of this was still largely just theory as nearly all of these video currency systems were – and remain – under construction. Work continues in the UK, Netherlands and Sweden, whilst new 'hybrid' contracts have been awarded to Kantar in Norway and Denmark which will combine PeopleMeter, online panels and 'Big Data'.
Whilst the sound of these hybrid systems being built was largely off stage, both audio and video conferences highlighted two major preoccupations that those systems are being built to measure: millennials and online streaming services. These two threads obviously intertwine and also provoke a wider existential angst as to what 'television' and 'radio' actually are.
This year the Radio sessions were renamed 'Radio & Audio' and the television 'Television & Video'. For an event that has been running for over 25 years these could have been seen as momentous changes, but actually the change in 'masthead' went largely unremarked upon, largely as it reflected the evolving nature of the asi community: Spotify made its debut on stage at the Radio & Audio event, whilst Facebook has been a fixture for the last few years at the Television & Video event. So 'audio' and 'video' it is.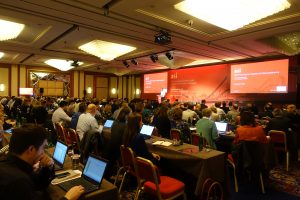 Both audio and video industries have millennials under the microscope at the moment. Arguably they hold the future of the media industry in their hands and the conference reflected a desire to understand and connect with this group. This is hugely ironic given that the two most seismic events for which 2016 will be remembered – Brexit and Trump – happened largely against the express wishes of the younger sections of society.
A key question was whether millennials are 'just going through a phase' or are a cohort that will continue to cut a swathe through 'traditional' media. The reality seems to be somewhere between the two. Clearly they will not throw away their multimedia devices and 'become their parents', as their usage of traditional media is already noticeably less than past generations. However, work presented by Nielsen's Glenn Enoch seemed to predict that as millennials get older their video game usage may decline and they may be more likely to listen to live TV and radio, so some aspects of behaviour are indeed life-stage related.  (The full Millennial Life Stages Report can be downloaded here).
Also, lest we get carried away, data from RAJAR's MIDAS Audio tracker in the UK indicates that radio and TV still dominate for millennials in terms of reach and volume of consumption. The problem is that they just don't dominate as much as they used to.  15-24s have a clear preference for audio – and video – on demand, but older age bands have a desire for social connection and 'mood management' that radio suits better – radio as a behaviour rather than a format, or as DR referenced, a desire for structure to the day that younger people have less need for. Whilst stressing the attractions of Spotify users as 'pioneers, leaders & shopaholics', Kerli Numoja stressed the essentially 'complementary' roles of radio and streaming services.
So a lot of this boils down to one question: Do we become our parents? Perhaps Brexit and Trump have increased millennials' determination not to do so. We shall see, but clearly the first 'post digital' generation – the digital 'natives' –cannot be expected to somehow revert to behaving in the same way as those for whom the words 'terrestrial' and 'analogue' actually have any meaning.
Indeed it was ironically highlighted that in a packed three days of approaching 70 speakers and panel members on stage, you could count the number of millennials on stage on the fingers of one hand. The repeated use of a Rubik's Cube meme may well have had as much to do with the average age of the audience as Rubik himself haling from Budapest.
Bridging the sessions, keynote speaker Roberto Suárez Candel of the EBU asked for how much longer  'market share' can survive as a key metric when the market itself may be declining. He also questioned the use of the term 'TV homes' when defining universes – after all, radio research does not limit itself to 'radio homes'.
Alan Wurtzel of NBC reported on a huge programme undertaken by the US Olympics rights-holder to understand the complex web of cross-platform consumption of the Rio Olympics. This was the latest report of a longitudinal study that has tracked changes in viewing behaviour across the last four Olympic games. The final scores revealed that not only were viewing levels overall far less than for the London games, despite Rio being  in a closer time zone, but also overall only 6% of viewing happened away from the TV set.
Indeed I was left with an impression that the rise of 'digital', whilst it tends to be linked directly to the ubiquity of mobile devices, actually is mostly playing out on TV sets themselves – firstly with the switch to digital broadcasting and PVRs, more recently with the rise of connected televisions.  So data from both Numeris in Canada and SKO in the Netherlands highlighted the TV as the main screen for watching SVOD services like Netflix. They also seemed to indicate that the minutes dedicated were largely additional  to live TV rather than replacing it. However to return to our millennials theme, this is far less clear for younger users, who are more likely to prefer mobile devices and watch them instead of, rather than in addition to, live TV.
The Tony Twyman Award for best paper was given to Nathalie Sonck of SKO and Liesbeth Nekkers of GfK for their analysis of SVOD viewing in the Netherlands, which appropriately enough also looked at millennial usage of streaming services.
Millennial behaviour remained a thread running through the TV and Video sessions, and for streaming Netflix replaced Spotify as the elephant in the room.
However some delegates questioned whether it was getting too much of a focus and whether the true star was Netflix's PR company. Ampere's Guy Bisson, predicted that Netflix growth driven by geographical expansion will 'run out of road' in 2017 – indeed Paolo Pescatore of CCS Insights predicted that Disney would buy Netflix, an idea that does seem to be gaining some traction currently.
The complementary nature of TV and online was highlighted in the papers focused on TV advertising, with Peter Field arguing that short-termism was moving the ad spend dial too much towards digital media and that TV and online worked most effectively when used in combination, with TV doing the 'heavy lifting' on brand building and online enhancing activation.
Millennials are not just a problem for the TV and radio industry, but are also a challenge for how their audiences are measured. BARB's Joe Lewis put millennials onscreen, if not in the room, via a video ethnographic study that showed they are willing to take part in research provided the measurement is passive and privacy concerns are addressed.
asi would not be asi without some focus on the measurement technology itself. In radio, although online and mobile diaries seem to be a main focus for the currency, portable meters are still being developed, with GfK unveiling its MediaWatch 4.0 and Médiamétrie testing its pager-like RateOnAir meter in Paris during Euro2016.
As discussed, hybrid is the primary focus of the research agencies' video measurement efforts. At least three of them have reached the conclusion that a 'Router Meter' will need to be part of that system – a separate box that sits in the home tapped into the home wi-fi network. With perfect timing BARB announced at the conference it has started a major tender process for a Boost panel, which will include, appropriately enough, router meters.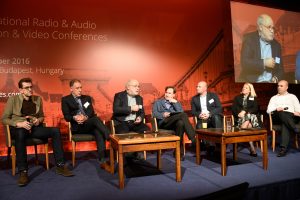 The final session of the conference was a panel entitled 'Whose Data Is it Anyway?' Does the need for one single currency for video still remain in a world of proprietary data sets? Senior representatives from BARB, Facebook, Sky, Liberty Global, CIMM and AGF (pictured above) seemed to conclude that there was indeed a need for common metrics. However, less clear was how the data (from social video platforms, satellite and cable) would be made available without also surrendering competitive advantage or falling foul of privacy concerns.
Definitions remain hotly contested – can the effectiveness of a 4-second video clip really be evaluated in the same way as a 30-second TV spot?  Chairing the session I got the impression that the intent is broadly there, but the execution will be more than challenging – something of a Rubik's Cube you might say! The audio from this session has just been uploaded as three podcasts (asiCast 44-46) that you can access from our asiCast page. Tom Webster of US pollsters Edison told the conference that podcasting is the place to be and who are we to argue?
Unsurprisingly for an international event spanning many different markets, not everything fits into the main themes – so what else did we learn along the way? Impress your colleagues with the following fun facts and opinions:
Netflix spends 60% of its revenue on programming, with a total spend larger that the BBC and most broadcasters (Ampere)
FM switch-off in Norway is still scheduled for next year but it is getting political (NRK)
Live Australian radio accounts for 65% of all audio listening in Australia (CRA) and 75% in the UK (RAJAR Midas)
Millennials' preference for mobile devices to stream audio may endure into later life (Enders)
Online radio diaries are better than paper at reaching young people in Finland, but the listening was 20% lower than for paper (Finnpanel)
It's important to break millennials down by life stage to understand radio listening opportunities (Numeris)
The future of portable meters may also be hybrid – different form factors or apps (GfK)
In Paris 24% of those watching the Euro 2016 final on TV did so out of home (Médiamétrie/CESP)
'Moneyball' is another name for sabermetrics, and can be applied to both baseball stats and PPM radio data (Jay Guyther)
The BBC is planning to track cross-media reach using a panel of passive meters (BBC/Ipsos MediaCell
If Facebook was a TV or radio station in the Czech Republic, it would rate 5th in terms of reach, YouTube 9th (Median)
TV timeshifting has flattened off, perhaps constricted by the rise of VOD (Eurodata)
Artificial Intelligence is now scanning sports TV broadcasts to evaluate the prominence and impact of sponsorship (vBrand)
74% of those using Sky Media's AdSmart addressable ad system are new to TV or new to Sky Media
Programmatic advertising is projected to account for $10bn of US TV ad spend by 2019 (clypd)
A light TV viewer is not always a light viewer and they can be tracked down and targeted ( OzTAM)
Online advertising is most effective when it understands online needstates (VCCP)
Young people are in a more positive frame of mind when they are co-viewing (CIMM/RealityMine)
56% of all viewing sessions in the UK are 'appointments to view' (BBC/Craft)
Without correction, US RPD viewing levels are 25% higher than PeopleMeters (Nielsen)
Online viewing added 33% to the ratings of Holland's Next Top Model amongst 20-49s (SKO)
Apps are fine for video, but the EPG is the Mother App (Decipher)
The quickest way to solve a Rubik's cube is to take it to pieces or peel off the stickers (RAJAR, SKO and GfK)
What will be the main themes at the November 8-10, 2017 conferences? Well, next May's APAC Television & Video Conference in Singapore (May 11/12) will give us some useful pointers.
Finally, thanks to all our speakers and above all to delegates for remaining actively engaged throughout the event. This year the app gave us an additional way to keep delegates informed and also for you to interact with each other. As good researchers we are still studying the usage stats but it does seem to have been a definite hit and will be back at future asi events.
Save
Save
Save
Save
Save
Save
Save