Back To The Future … Of Television
Graham Lovelace, asi's Media Technologies Director, peers into his Ultra HD crystal ball and shares his predictions on TV tech
in 2017
The future of TV is Closer Than We Think. Quite literally. Nearly 60 years ago a cartoon appeared in the Chicago Tribune predicting the future of television. This was the Fifties, when so-bad-they're-good B movies warned humanity of attacks from giant spiders, giant ants, giant leeches, a giant man, and giant woman, teenage werewolves and (perish the thought) Teenagers from Outer Space … so you'd expect some outlandish vision on the future of television. Wrong.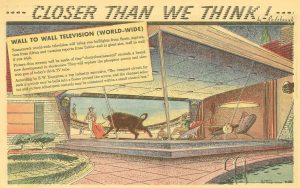 Closer Than We Think – a comic strip beautifully illustrated by commercial artist and influential futurist Arthur Radebaugh – got the future of TV down to a tee. Well within a few pixels. Screens would be big – yep, we have those. They would be 'picture thin', thanks to new display technology – big tick, the latest screen from LG is just 2.6mm thick. We would control what we watched using a small box – aha, the TV remote interacting with a set-top box. And we would enjoy 'world-wide television that will bring you bullfights from Spain, exploration from Africa and vacation reports from Tahiti'.
Yes, we're able to watch more international content as broadcasters satisfy a viewer craving for something different – even the bleakest, darkest Nordic noirs. And yes, access to international channels has increased, thanks to satellite and internet protocol (IP) distribution. But world-wide television hasn't evolved in the way that Radebaugh probably envisaged: every broadcaster in every country making every live channel available for global consumption. The vast majority of our TV channels and on-demand programming is confined within national borders. Much of our broadcast TV content is culture specific. But the confinement within borders of content that could travel is largely down to the way that TV programming rights have traditionally been defined and sold.
In 2017 we will inch closer to Radebaugh's vision as technology enables a world-wide web of TV; as copyright laws are relaxed, allowing portability of content across borders; and as new players increasingly agree global content distribution deals.
Sports rights have long been sold on a territory-by-territory basis, with pay-TV operators holding the prize assets. As I look into the crystal ball I can see a single deep-pocketed global hi-tech player grabbing some of those sports rights and making them available around the world. The most logical player to do this: Apple, via an acquisition of Disney, which owns cable sports network ESPN. Or maybe Apple first acquires Netflix, which has shied away from sports rights – Apple could add those rights to Netflix's entertainment offering making it an even more formidable market proposition. Either way, Apple will be part of a mega media merger in 2017. There, that's my first prediction. You want more? Read on!
Peak TV? No, there's a way to go
We're lucky to live in the Golden Age of TV. Never before has there been such an abundance of premium programming, and never has that content been so widely available. In 2015 US TV executive John Landgraf warned the number of original scripted dramas would soon start to fall in America as ideas for new shows ran out and the glut of programming left viewers bothered and bewildered.
What happened? 'Peak TV,' the term coined by the FX Networks president, didn't peak. According to FX Networks data, the number of scripted shows on TV in all its forms grew by 8% in 2016 to a record 455, up from 266 in 2011. No prizes for guessing the principal cause. Yes, subscription video-on-demand (SVOD) players such as Netflix and Amazon getting into the original content business. That prompted the broadcast networks and cable channels to up their acts and commission more original programming. If you're a talented actor, writer or producer: happy days.
When will they end? Not in 2017. Netflix and Amazon are further increasing their content spending this year. Other SVOD services will commission more new programming. And there'll be more SVOD service launches – not on the geographical scale of Netflix or Amazon, but bringing new programming to viewers nonetheless. TV choices will continue to proliferate, and the rich archive of great TV programming will just keep getting richer.
We're going to build a wall
Apps are the future of TV. Not my words, but those of Apple CEO Tim Cook. In 2015 he outlined a vision for TV that would have viewers merrily hopping from app to app, watching shows and streaming movies. The problem with that: you need to know which app has which content, just as you need to know which TV channel has which programme – channels and apps are walled gardens.
In 2016 Apple sought to simplify everything with a universal TV app, simply called TV. The idea: on Apple TV the app keeps track of all your video app viewing, using Siri voice activation to navigate all that's available. Problem: Amazon Prime Video doesn't have an Apple TV app. And Netflix – which is on the Apple TV platform – isn't included in the TV app. So the two most popular TV apps aren't part of an app that's designed to make watching app-based TV easier. Suddenly I'm not appy. It appears TV manufacturers have now succeeded where Apple failed.
At the Consumer Electronics Show (CES) in Las Vegas last week (quick aside: curved screens, which look great if you live in a lighthouse, are on the way OUT!) China's Hisense showcased a new TV with an integrated web browser allowing viewers to watch video from Netflix, Amazon Prime Video and YouTube. Meanwhile Samsung's latest Smart Hub TVs let users navigate live TV channels and streaming services within a single screen. They also include a built-in Shazam service, letting viewers identify songs and music playing during TV shows. Universal search is the way forward, it's what consumers expect.
Television will be replaced … by television
Take a look at the image below. It's the cover of Radio Times from a week in November 2016. Forget the fact that this is the name of the UK's venerable TV listings magazine, launched by the BBC in 1923. And forget also the fact that until 1991 it never referred to rival channels let alone carried their listings.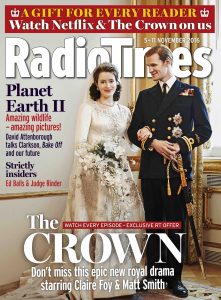 What's significant about this cover is the promotion by a TV listings magazine of a show – the lavish 10-part period drama The Crown, which reportedly cost £100 million to produce – on Netflix. For me this was Netflix's coming of age. Not the show itself, but the way it was presented. As TV.
This was the moment the television industry – in the UK at least – caught up with viewers who had long referred to Netflix as a form of telly. Look again at the cover: it doesn't refer to SVOD, or streaming – real people in real living rooms don't use those terms. The Crown could easily be a new show on a broadcast linear channel, you know, something you might miss if you didn't sit down and watch it at the right time (how quaint)*.
In 2013 Netflix founder Reed Hastings said linear TV would be replaced by what he called 'Internet TV': on-demand, IP-distributed, via an app. And yet every episode of Netflix's ground-breaking original series House of Cards says in the opening titles: 'Created for television by Beau Willimon'. Note that word television, and not Internet TV. In 2017 we'll finally accept that all these new forms of TV – live streams, downloads, catch-up, DVDs and Blu-rays, recordings on a PVR in the home or in the cloud – can be called TV. And thus TV will be replaced by TV, and TV will be bigger than ever.
The engines CAN take it, Cap'n
In the original Star Trek series engineer Scotty is remembered for repeatedly warning Captain Kirk not to overload the engines on the Enterprise. He never actually said the words in the meme below – but it's on the web, and this is the post-truth era, so it must be true!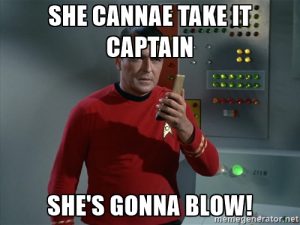 Star Trek will boldly return this May, with a premiere on CBS' broadcast TV network. Then, in the US, the pilot and all subsequent episodes will appear on SVOD service CBS All Access. Outside the US and Canada episodes will be released on Netflix, which will also make the entire Star Trek library available. So more SVOD content, prompting more streaming, putting more strain on the internet. Can it take it? Will she blow?
The public internet – the network of point-to-point networks – was never intended to be a broadcast (one-to-many) platform. But thanks to a continuing series of genius workarounds on the part of internet service providers (ISPs) and telcos, content delivery networks (CDNs), streaming technology providers and streaming video operators the experience of watching live events and archive programming just keeps getting better (quick start time; minimal or no buffering; HD and now 4K quality pictures). And, crucially for the operators, it's becoming even more economically viable.
This has led some notable players to forecast a time when IP will completely replace cable, satellite and terrestrial (aka over-the-air) broadcast networks. In 2016 James Murdoch, CEO of 21st Century Fox, said: 'Over the long term but approaching quickly, all our entertainment will be consumed over IP streaming networks.'
There's another camp that says broadcasters and TV operators will continue to use broadcast and broadband distribution, and that this hybrid world will last forever. I used to be in this latter camp, but now, in 2017, I'm an 'IP switchover' proponent, for three reasons:
Those genius workarounds will continue to make the public internet's 'best efforts' resemble that of a managed IP network.
IP streaming will continue to become even more economically competitive.
5G will provide a complementary delivery network for IP services.
In many markets, principally in Europe, 5G services will use spectrum liberated by broadcast TV shifting frequencies (from the 700 MHz band to 470-696 MHz). 5G promises much faster peak connection speeds (sufficient, according to Ericsson, to download 4K movies in a matter of seconds) plus lower energy consumption (so batteries last longer – I can't wait for that). 5G also aims to offer higher capacity than 4G – so more users can enjoy high-speed connectivity within a certain area. In 2017 we'll see more large-scale field trials and big leaps in the standardization process so that by 2018 in some markets, and by 2020 in Europe – when spectrum becomes available – we'll see the first 5G launches. 5G will support IP service operators in areas lacking high-speed fibre connections, as well as giving subscribers the opportunity to download programming on the move and cast it to the TV later.
When might we see IP replace broadcast? My crystal ball says 2030. That's when the European Union's guarantee that broadcasters will have the sub-700 MHz band for digital terrestrial TV expires. It could be earlier than 2030 if further generations of wireless technologies (6G, 7G) hasten the transition. Time to work on your IP switchover strategy.
OK Google, I'm talking to you
Voice-activated assistants – speakers that reply when you ask questions, thanks to nifty artificial intelligence (AI) technology – were all the rage at CES. Google's Home device (which can control Android TVs and Chromecast dongles) is chasing rival Amazon Echo, powered by its Alexa voice agent. At CES Amazon unveiled 4K TVs powered by its Fire TV interface and controlled by Alexa. Alexa will also be supported by US pay-TV provider DISH, allowing users to ask Alexa to search and play TV content on a broadband-connected Hopper DVR. Google announced its Alexa rival, Google Assistant, will be incorporated within Android TVs 'in coming months', so users won't require a separate Google Home device in order to shout at the telly.
In 2017 Microsoft will also get in on the act by supplying its Cortana assistant to third party hardware makers. Apple is rumoured to be prototyping its own smart speaker powered by Siri that's already embedded in iPhones, iPads and Apple TV remotes. Facebook will continue to evolve its prototype AI assistant M within its Messenger app – with tweaks no doubt coming from founder Mark Zuckerberg's personal AI project Jarvis.
This all points to voice taking a big leap in TV navigation. AI will eventually recognize family members, learn their individual viewing tastes and habits and create a detailed record of their viewing choices – as well as what they say as they watch TV. TV ads could even activate voice assistants so they capture what we're saying about brands. Sound creepy? Get used to it.
Welcome to 2017.
Posted by Graham Lovelace at asi
9th January 2017
*  Yesterday, Golden Globes 2017 awarded The Crown Best Television Series – Drama
Follow Graham on Twitter for daily tweets on the future of TV: @glovelace
Save
Save
Save
Save
Save
Save