Winners of the 2016 Tony Twyman Award
We are delighted to announce that the Tony Twyman Award for Best Paper at the 2016 International Television & Video Conference in Budapest last week was awarded to Nathalie Sonck of SKO and Liesbeth Nekkers of GfK for their presentation 'Solving the Viewing Puzzle – Assessing Reach of SVOD content on the Big Screen'.
It was a conference in which two of the major themes were SVOD usage and understanding the viewing patterns of millennials, so it was appropriate that the best paper combined both of these themes to look at SVOD behaviour in the Netherlands, dubbed by some as 'the Media Lab of Europe'.
The research confirmed that Netflix is now most likely to be viewed on the TV sets itself in the Netherlands, with 77% of viewing via a media centre.  Those that do watch SVOD on the main TV screen are also more likely to watch broadcast TV content, indicating that for them services like Netflix are an add-on rather than a replacement for linear TV. Teenagers are more likely to watch SVOD services and other video on the second screen and their viewing hours are declining compared to previous generations.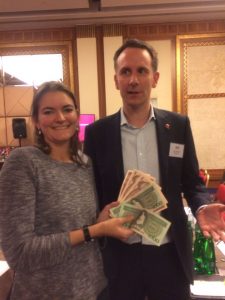 Nathalie Sonck accepted the award on behalf of the duo from the award sponsors RSMB, with the winner announced by Commercial Director, Ross Wightman. It should be noted that the Hungarian Florints shown here (right) are for illustrative purposes only. RSMB found them in the office from a past trip to Budapest, but discovered on arrival they were no longer legal tender, so the prize money will be in the post!
Next week we will be publishing a summary of all three days of the Radio & Audio and Television & Video Conferences. In the meantime, we would like to thank the c.300 attendees across the conferences for what seems to have been a well-received and enjoyable event. We arrange the speakers, but the delegates bring their enthusiasm and questions which bring asi conferences to life.
You can view the winning deck for the 2016 Tony Twyman Award here, and listen to the accompanying audio file here.
Save
Save