asiCast 156: The evolution of attention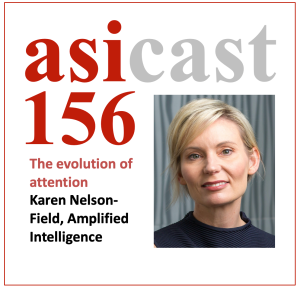 The importance of attention has arisen with the attempt to determine a measure that attributes value across impressions. This was the task Karen Nelson-Field, Founder and CEO of Amplified Intelligence, set out to address shortly after completing her doctorate in audience measurement, as she outlines in this interview with Brian Jacobs of BJ&A. Facebook and YouTube were then in their infancy and she was interested in the extent to which the techniques she had learned about when completing her studies could be applied to these new communication platforms. Recognising that they were very different, she set about determining why and how they were different and what the consequences were for advertisers.
It was clear that viewability standards were inadequate and that one impression is not equivalent to another. In this interview Karen outlines the work she has been undertaking to demonstrate the importance of recognising levels of attention in determining relative value, and argues that measurement started to fail when the industry stopped measuring humans and started to rely on assumptions. She and Brian discuss the progress that has been made to date and current work in progress.
Karen Nelson-Field talks with Brian Jacobs:
You can also listen to the interview by pressing play below:

Subscribe to our RSS feed for automatic updates to our asiCasts.
This asiCast is also available via YouTube, Spotify and iTunes – just click on the icons: