asiCast 137: Device and account sharing – what is really going on?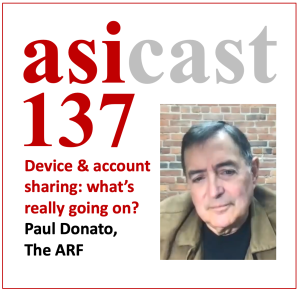 We all have multiple profiles across a range of services and many of us also share TVs, gaming consoles, tablets, PCs and other devices within our households. Meanwhile, millions also share access to streaming media and ecommerce accounts. Media companies and companies engaged in ecommerce have a wealth of data although this is within their own systems and has limited value to the wider market. Each has its own approach to modelling viewing and co-viewing and attributing online purchase to individual household members. The lack of a standard to benchmark against has prompted the ARF to produce the Device and Account Sharing report – DASH.
Our Research Director Richard Marks interviews the ARF's Chief Research Officer Paul Donato about this important study and asks him to outline the methodology the ARF adopted. Whilst this is important for those seeking to develop identity graphs or people wanting to determine attribution to build audiences, there are also the requirements of those engaged in ecommerce: account sharing isn't just a challenge for AVOD, SVOD and Netflix but is also a concern for Amazon, Amazon Prime and Walmart.
Richard and Paul also discuss how the data are made available to potential users and the extent to which the study could be a template for work to be conducted in other markets. They also discuss the move towards multiple currencies and Paul observes that there seems to be a growing desire for 'support' currencies and multiple inputs to assist TV buys. In the next few years, for example, 'attention' could be just such a possible support currency. There remains, of course, the question of how such multiple inputs will be applied in the marketplace.
You can view details of the study here.
Paul Donato talks with Richard Marks:
You can also listen to the interview by pressing play below or click here.

Subscribe to our RSS feed for automatic updates to our asiCasts.
This asiCast is also available via YouTube and Spotify – just click on the icons: