asiCast 122: TV planning and buying – the argument for change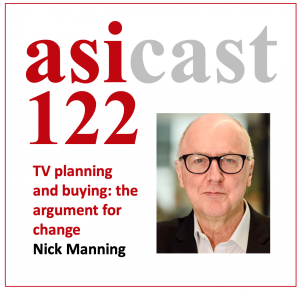 The way in which TV airtime is traded has remained pretty much the same for many years even though we know that viewing habits have altered dramatically. A recent report TV Advertising – Evolving the Model conducted by Enders Analysis suggested that this needed to change to ensure 'it remains as potent a medium for brands as ever.'
In this asiCast Brian Jacobs, Founder and CEO of BJ&A, discusses the report with Nick Manning, Founder of Encyclomedia International. Whilst it is true that any attempt to accommodate total TV viewing will require a change in TV buying practices, the more immediate concern in Nick's view is to acknowledge the changes needed to improve TV planning. These planning issues require resource – data, measurement and research resource – and, as the Enders report acknowledges, it will take a a long time for such reliable planning data to be available across the industry. However, there is a great deal that can be done by individual advertisers who should be looking to their agencies and the measurement community to develop reliable metrics specific to their needs.
Brian and Nick also discuss the question of how these research initiatives should be funded, including the industry level projects initiated by the WFA and ISBA into cross-media measurement. Whilst they acknowledge this is needed, they highlight some of the difficulties to be resolved and suggest that it will take a very long time and will be very expensive. In the meantime, individual advertisers should develop their own planning tools and recognise it is a cost of doing business.
Nick is also involved as a consultant to the American Association of National Advertisers (ANA) in a study they recently launched into programmatic trading. Far more comprehensive than any studies that have previously been conducted, this report is timely given the demise of third-party cookies and the introduction of new identity solutions. There is a concern that, if programmatic becomes the trading mechanism for connected TV, the problems it gave rise to in online display should not be repeated. There is some urgency in this respect as there is evidence of significant ad fraud already happening, especially in the U.S.
Nick Manning talks with Brian Jacobs:
You can also listen to the interview by pressing play below or click here.

Subscribe to our RSS feed for automatic updates to our asiCasts.
This asiCast is also available via YouTube and Spotify – just click on the icons: