asiCast 113: Putting a value on attention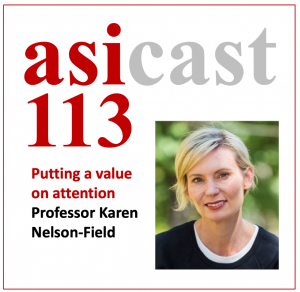 Professor Karen Nelson-Field has spoken to asi a couple of times before about her pioneering work measuring attention, most recently at the launch of her book immediately before lockdown (see asiCast 105). In this follow-up interview, available as both an audio and video podcast, she talks to Brian Jacobs of BJ&A about the special edition of WARC that she has guest edited, featuring contributors from across the industry, including MARS, GSK, IPSOS, Spotify, Dentsu, Attention Capital and more.
Karen gives an insight into the main themes and also discusses the work of the Attention Council which she chairs. Karen argues that measures of visual attention capture impact that memory-based recall just can't. So can attention move us closer to a proxy for sales or brand impact? Could a global measure of attention feed into the ongoing WFA cross-media measurement initiative? Can we really move beyond Opportunity To See to planning and trading on 'real human views'?
Karen speaks with Brian Jacobs:
You can also listen to the interview by pressing play below or click here.

Subscribe to our RSS feed for automatic updates to our asiCasts.