asiCast 105: The attention economy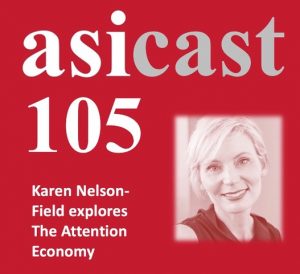 A few weeks ago Karen Nelson-Field of Amplified Intelligence was in London to launch her book The Attention Economy and Brian Jacobs, Founder and CEO of BJ&A, interviewed her for us. In a post of his regular blog, Brian also wrote about a number of developments involving attention as a valuable metric for advertisers to determine the effectiveness of their communications.  This edition of his blog, 'Pay Attention!', was posted on 19th March.
To listen to the interview, press play below or click here. Our apologies for the sound quality on this asiCast.

Subscribe to our RSS feed for automatic updates to our asiCasts.
Comments