asiCast 104: Advertising in a time of crisis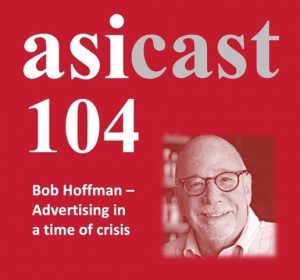 As we all try to adjust to the impact COVID-19 is making on our working lives, we thought we would have a chat to Bob Hoffman to cheer us up in these gloomy times. In this asiCast, Brian Jacobs talks to the Ad Contrarian about how the current pandemic is likely to change people in general and, more particularly, the advertising and media community.
They also discuss how the crisis has brought into sharp focus the extent to which communities have shown a hunger for good, reliable local news at a time when the funding for these channels is being starved of revenues. Ironically, social media, widely distrusted as a source of information, seems to have few problems in attracting support from advertisers.
Finally, they discuss the attempts to progress towards cross-media measurement and consider the appropriate strategies to be taken by advertisers in these challenging circumstances.
Towards the end of the interview you may hear a distant whining sound – an emergency vehicle or someone's washing machine ending its cycle? The perils of interviewing in the lockdown!
To listen to the interview, press play below or click here.

Subscribe to our RSS feed for automatic updates to our asiCasts.