asiCast 95: News attribution on social media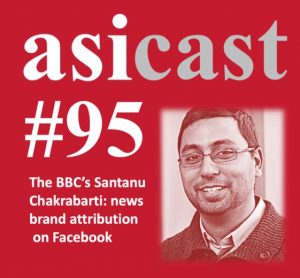 Many publishers regard Facebook and other social media as essential for extending their reach to audiences around the world. These news aggregating services are increasingly popular to consumers as a source. However, this extended reach comes at a cost to publishers as content is credited to the platform and attribution to the publishers as the source of the information is low.
Brand attribution for stories published on Facebook and social media more generally has been the subject of a major study conducted by the BBC World Service and in this asiCast our Research Director, Richard Marks, talks to Santanu Chakrabarti, the Service's Head of Audience Insight.
How low though is this attribution? Does it change from country to country? What, indeed, are the factors that play a role in influencing the amount of attribution a news provider gets on a third-party platform? Can publisher brands strengthen and flourish on third-party platforms, especially Facebook? And what does it mean for a publisher seeking to not just increase eyeballs or revenue, but have genuine journalistic impact in the markets they operate in?
How worried should newsbrands be about the issue?
Santanu Chakrabarti will be speaking at the 2019 International Publishing & Data Conference on 12th-13th September 2019 in Lisbon, Portugal.
To listen to the interview, just press play below or click here.

Subscribe to our RSS feed for automatic updates to our asiCasts.