asiCast 114: Project Origin – where are we now?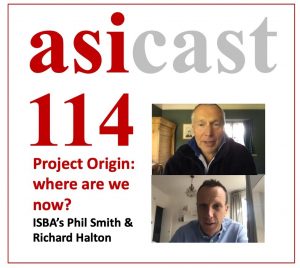 The long-awaited WFA Guidelines for cross-media measurement have now been released into the public domain after an extended period of consultation.
Project Origin is the UK initiative led by the ISBA which aims to put these guidelines into practice. Launched last November at our annual International Television & Video Conference by ISBA's Director General Phil Smith, we thought it was a good time to catch up with the progress that has been made since then.
Our Research Director Richard Marks spoke with Phil Smith and Project Origin's Director Richard Halton in a wide-ranging interview that is essential viewing for those who are following this significant cross-media measurement development. Many of the issues arising from this will be discussed in detail at asi's 2020 Virtual Conference which will be held on November 2nd – 6th.
Further information about Project Origin can be found at their website here.
You can also listen to the interview by pressing play below or click here.

Subscribe to our RSS feed for automatic updates to our asiCasts.
Comments