asiCast 99: A ground-breaking solution for podcast measurement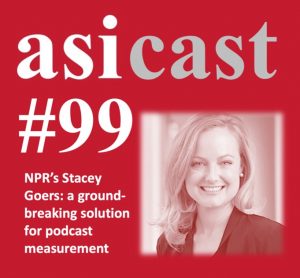 In this asiCast we invited Paul Kennedy, RAJAR's Research Director, to talk with Stacey Goers, Senior Product Manager, Podcasts at NPR (National Public Radio) in the States. Paul discusses with Stacey RAD, (Remote Audio Data) the ground-breaking solution for podcast measurement she has been closely involved in developing over the last two years.
The RAD project engaged the collaboration of a number of partners from across the industry and is the key to unlocking podcast usage. It provides publishers with consolidated metrics on an audio file – how long listeners have been listening and at what point they dropped off. In other words, a far more useful metric than just the download.
There is a great deal of international interest in RAD as there is a widespread need to measure on-demand audio files. Whilst currently RAD cannot yet be applied to live radio the hope is, through further collaboration, to achieve this too.
Stacey Goers will be speaking at this year's International Radio & Audio Conference on 6th November 2019 in Prague, Czech Republic.
To listen to the interview, just press play below or click here.

Subscribe to our RSS feed for automatic updates to our asiCasts.