Taking the initiative: a review of the 2019 asi International Conferences in Prague

There was a definite air of anticipation ahead of this year's asi conferences in Prague. Not just the highest attendance yet for both the Radio & Audio and Television & Video Conferences, but also a backdrop of ongoing tenders, new initiatives and exclusive announcements. Add to this a return to one of our most popular past destinations – an elegant Prague bedecked with russet-coloured Autumnal leaves – and the stage was set for an engaging three days of presentations and debate.
International Radio & Audio Conference
Audio is a medium with momentum at the moment. Some of that optimism is driven by the renaissance of podcasting after an initial false start a decade ago and our keynote James Cridland returned to asi not just as a radio futurologist but also as editor of Podcast News, so is well placed to map the changing audio landscape. James highlighted how audio behaviour is different on different devices:  radio on voice assistants, non-linear on smartphones. With cracks starting to appear in linear radio consumption, particularly amongst the young, a fundamental rethink of radio output may be on the cards.
The challenges of reaching young audiences were further amplified by research from RAJAR and Ipsos and from Rasmus Kidde of DR, who focused in particular on music discovery and consumption, with an emphasis on ease of access and music curation. A worthy winner of the Tony Twyman Award for Best Paper at this year's Radio & Audio Conference, Rasmus showed that, to the young, 'new' music does not just mean newly released, but new to them. So that's bad news for aspiring new acts who now have to compete not only against their peers but the whole of music history!
Edison Research's Infinite Dial initiative with Triton Digital widens tracking from radio to the whole audio landscape and is going international, allowing cross-market comparisons:  podcast listening is particularly high in the US and Canada, as is smart speaker ownership. The BBC Sounds initiative has reflected a desire to put radio in that wider context and meet the challenge of engaging with younger age groups. As the BBC's Alison Winter showed, the app also provides a wealth of analytics data to cast light on how linear and non-linear complement each other, and how one can drive audiences to the other.
One of the reasons why radio and audio has proved such an enduring medium is that people's lives are getting busier and audio is the medium that facilitates multitasking. Radiocentre UK's Mark Barber demonstrated how this can be turned to the advertiser's advantage, hitting people at the right time of day with messages and brands that complement their activity. Taking account of the 'Hear & Now' only enhances the power of radio as an advertising medium.
Changing patterns of audio consumption inevitably put pressure on the currencies to innovate. Over a decade ago we were being told that portable electronic metering was the way forward but, after an initial flurry of activity, primarily in North America and Scandinavia, things seemed to have gone fairly quiet on the meter front. This year, electronic measurement was back with a bang. We heard from Bill Rose of Nielsen about the impact PPM has had on US radio over a decade since its adoption, but also learnt that the humble diary still plays an important role in smaller US markets. Norway – the first market to adopt PPM as a currency – remains committed to electronic measurement and won't go back, but has switched its panel supplier. This has followed Norway's switch-off of analogue radio. As Bjarte Øgrey of  Bauer Media reported, reach is down as a result, but listeners' repertoire of stations has grown, so going digital-only is 'not as bad as feared'.
As electronic measurement has evolved, a seemingly obvious development is to use an app on people's phones as opposed to giving them a separate device to carry.  Obvious perhaps, but not without drawbacks as a refreshingly open-minded paper from Mediapulse and GfK demonstrated, by laying app and portable meter data alongside each other. An app has potential, but clearly some issues remain around carriage and also other apps fighting to use the phone microphone.  Meanwhile the Australian 'Super Pilot' marks a root-and-branch examination of all the radio measurement options available, including streaming data.
Another challenge for electronic measurement has always been encompassing headphone data. Bucknull & Masson International has worked with Swedish Radio and Kantar to provide a mechanism for fusing headphone listening onto portable meter panels, an approach that will become all the more important with the dominance of the smartphone for young listeners.
Podcasting featured prominently throughout the day, but it presents a measurement conundrum as there is a long tail of content: over three quarters of a million titles in Apple Podcasts alone according to James Cridland. That will challenge sample-centric measurement.
CRA Australia has teamed up with Triton Digital to provide census streaming data summaries.  Census measurement will miss out podcasts downloaded to play later and can't necessarily tell how much of the content is listened to. So a possible solution from NPR in the States, RAD (Remote Audio Data), attracted great interest and Stacey Goers invited the audience to join this initiative, a great collaborative note with which to end the audio and radio sessions.
Thanks to our chairs Paul Kennedy of RAJAR and Kristian Tolonen of NRK for arguably our most successful radio and audio event yet.
Joint Session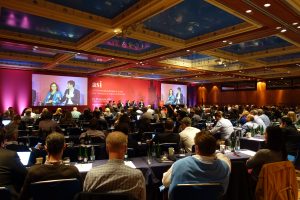 Our biggest ever asi audience came together, chaired again by Kristian, to focus on cross-media measurement: is there real momentum or is it just a mirage? Interestingly, some aspects of this session effectively set up an announcement from WFA and IPA the following day, but let's not get too non-linear at this stage.
We kicked off with a summary from Médiamétrie and CESP of the progress in France on standard measurement for digital video and TV campaign performance, which is advocating a quartile approach for video GRP measurement across platforms. Our conferences took place against the backdrop of a number of overlapping initiatives; WFA, MRC and egta to name but three and in the subsequent panel debate we established that these initiatives are at least interacting with each other.
Elissa Lee of Google continued the theme of like-for-like measurement, with a call for a principles-based standard-first approach. Transparent duration should be available, but reported separately to allow advertisers to make their own decisions on weighting.
Johan Smit of PMA has been one of the driving forces behind the Dutch TMAM initiative bringing the currencies together, and he made some serious points during a speech which indicates that an alternative career in stand-up comedy may be an option. The long road to TMAM (nearly) being ready shows that it can be straightforward to agree broad abstract principles, but the devil lies in the detail.
Brad Bedford introduced the new grouping GAMMA, which comprises a collaboration to promote audience measurement by Video Research, Médiamétrie, Numeris and BARC India, an Avengers-style team-up representing markets with an annual ad spend of $78bn!
Over the last couple of conferences, we have been tracking the development of the BBC's own cross-media initiative in the UK, now named Compass. Significant as in a world of hybrid and fusion methodologies, Compass has at its heart a measurement panel with Ipsos passive measurement aligned with other forms of data collection. Simultaneous usage data was presented, showing just how much social media accompanies broadcast viewing. This is a rare example of cross-media measurement in action as opposed to in theory or guideline principles. It has happened because the BBC had a pressing need and paid for it. The question remained at the end of day one; who will actually drive and – critically – fund true cross-media measurement? Some answers were to emerge the following day…
International Television & Video Conference

In a slight break with tradition (or perhaps evolution), this year's event was organised into six distinct sessions, with our starting point being a focus on Streaming and SVOD in a session chaired by Ampere Analysis' Guy Bisson. Guy gave an overview of the numerous new streaming services heading our way, with content the key battleground and point of differentiation. The decline in live broadcast viewing is becoming ever more apparent, so broadcaster initiatives around VOD take on even more importance. But can the market take this number of players?
Brian Fuhrer unveiled for the first time Amazon Prime content viewing figures to add to Nielsen's Netflix measurement. Prime viewing skews much older than Netflix, but is that content-related or retail motivations for having a Prime subscription? NBCUniversal's Lisa Heimann showed how two NBC shows (The Office and Friends) drive a significant amount of viewing volume to US Netflix. Her data visualisation of this was borderline modern art and was a hit on the conference hashtag. Lisa also revealed that The Good Place had been saved from cancellation by its performance on Netflix, which drove viewers to watch subsequent series on NBC itself. Attendees at asi with really long memories may recall a similar phenomenon with The Office – nearly cancelled by NBC in 2006 until it became a hit on iTunes which drove people to the broadcasts – an interesting parallel given that The Office streaming rights recently went for $500m. Not bad for an old TV show.
Lest we get too US-centric, Goldmedia tracks VOD in Germany and the UK and highlighted that, although Prime has more subscribers, Netflix has more viewers, possibly due to people being more willing to share their Netflix subscription than, for obvious reasons, their Amazon password!
Last year's asi was not without controversy when it came to the legality of measuring SVOD services if they do not want to be measured. However, BARB's Justin Sampson laid that argument to rest, showing test UK data from both Nielsen and Kantar router meters, the latter of which is now being rolled out across BARB. The debate has moved on, partly due to legal advice, partly due to Reed Hasting's publicly stated desire for Netflix to be measured by companies like BARB.
Nigel Walley of Decipher then took over the reins for a session on Addressable Advertising, featuring contributions from Amobee, which is building addressable systems for companies like ITV, and Nielsen's Brian Jentz who gave an overview of addressable in the US, and measurement solutions. A key question raised by this session is how effective has the addressable industry been in clearly explaining its services to advertisers? The opportunities are huge but, as Nigel pointed out, the language is not always consistent or precise and that is undermining advertiser trust and enthusiasm. Hopefully, this session went some way to clearing up that imprecision.
Can video measurement deliver what advertisers need? This was the title of our next session chaired by Brian Jacobs of BJ&A and the answer was a resounding 'No' from MediaCom's Nick Slaymaker who, despairing of what he perceived as the lack of action from the measurement companies, had built his own in-house planning tool in collaboration with Google. Phil Smith of ISBA in the UK was more optimistic of an industry-wide solution and used his speech to exclusively announce the launch of a UK cross-media initiative, 'Origin'. The WFA recently announced its intention to publish global guidelines on cross-media measurement and Origin will effectively be a UK pilot of how to put those principles into practice. Brian Jacobs joined the Origin team onstage again at the end of the day for an interview.
The question remains: who will pay for cross-media measurement? Brian proposed a global levy on advertising of 0.1%, which would generate $30m per year and you can read more on his Cogblog. Either way, we will keep you posted on how the Origin pilot develops.
In the second half of the afternoon Brian curated a series of papers outlining New Developments in Advertising. Yan Liu of TVision argued that TV needs to move beyond ratings to factor in attention, as measured via eye tracking, both as an indicator of future content performance and ad exposure. OTT has higher attention norms than linear, with implications for advertisers. Alongside attention, attribution is another hot topic and Jane Clarke of CIMM previewed its guide to the attribution services vying for advertiser attention. Pete Doe of clypd (recently acquired by AT&Ts Xandr) showed how data-driven targeting on linear is becoming the norm in the US, whilst NBC and NBCUniversal have collaborated to roll our CFlight, their all-screen advertising measurement solution.
I left the session with the impression that there is a lot going on, with many initiatives underway, despite Slaymaker's protestations. However, as Jane Clarke pointed out, solving cross-media measurement may be less about technical solutions and more about resolving business and political issues. There may be a long and difficult road ahead.
I had the pleasure of kicking off our Friday session, Towards Total Video.  Friday tends to be the day of the conference focused most squarely on audience measurement itself. It's always reassuring how many people make it bright and early at 9am despite the various dinners and receptions the night before and this year those early birds were rewarded by seeing the eventual winner of the Tony Twyman Award for best Television & Video paper: Nora Schmitz of Ipsos Italy and Davide Crestani of Auditel argued forcibly that a measurement panel is only as good as the Establishment Survey it is based upon and showed the continued importance of eagle-eyed interviewers to accurately establish what technology viewers actually have in the home. Unverified claims lead to underestimates that can undermine the representativeness of panels.
Our next two papers, from Kantar and GfK both focused on data from router meters and in the subsequent panel discussion we opened the box to understand more about how this technology works. There is growing consensus that they will form a key part of measurement systems, supplementing TV meters to measure relevant IP traffic around the home network. However, it is clear that the boxes themselves are actually pretty similar; the key is in how the data is extracted and integrated. Equally important is not to describe the router meters as 'sniffing' or 'snooping'!
Following Steve Wilcox's well-received paper on the challenges posed by Return Path Data at last year's Television & Video Conference, our next session focused on Set Top Box and Server data. This meant effectively a focus on techniques for modelling and fusing online data onto PeopleMeter panels.
Tomáš Hanzák of local currency providers Nielsen Admosphere demonstrated a deceptively simple approach to modelling demographics onto streamed viewing, an approach that may have much appeal in markets with smaller TAM panels and restricted budgets. Andrea Mezzasalma of dataBreeders made a strong argument that we should carefully consider the benefits of macro and micro-modelling, with practical data showing the impact on modelled estimates. He also questioned our continued reliance on respondent-level databases for analysis in a world of APIs.
Focused more specifically on RPD data from Set Top Boxes, Frank Pecjak described how Comscore models all-important demographics onto STB data in the US. Two papers outlined RPD data actually being incorporated into the currency: in Canada, where the government has forced cable and satellite operators to make their data available to Numeris, and in Switzerland, where Mediapulse is about to feed RPD data directly into the currency to meet the challenge of the long tail of niche channels and content.
Steve Wilcox's moderation of the panel on RPD brought the session to a lively close. Before moving on, asi's Chief Executive, Mike Sainsbury, took to the stage to announce that Steve will be the first inductee into the asi Hall Of Fame, an award to acknowledge individuals who have made outstanding contributions to the wider audience measurement community. Steve Wilcox is a worthy first winner and hopefully the first of a series of announcements over the coming years.
Out Of Home viewing has often been a topic that has featured around the fringes of the discussion about measurement but has rarely been centre stage at asi, save for one-off projects around special events. However, that is clearly changing and two countries will now have OOH viewing directly in their currencies on an ongoing basis. In both cases this has been driven by local factors: the French love of restaurants (41,845 of them) and the Indian obsession with cricket, with 424 million watching this year's IPL.
Julien Rosanvallon of Médiamétrie revealed that the new TV panel for France will fuse a 5000 home PeopleMeter panel to a 4,500 individual portable meter panel, with OOH in the overnight currency each day. The solution in India, as described by BARC's Derrick Gray is to put PeopleMeters into eateries, with total audience achieved by a combination of head counting and modelling. Will more currencies now follow suit and embrace Out Of Home viewing? The move in most markets to include smartphones, often used out of the home, means that currencies have arguably already made the first step in moving beyond a straightforward definition of domestic viewing.
It fell to Eija Moisala of Finnish public broadcasters YLE to chair our final session. Data Science has been a hot topic at asi in recent years but what do we really mean by the term? What differentiates a Data Scientist from a statistician or researcher? Eija had an engaging panel of speakers on hand to show how companies as diverse as BBC, Facebook and Nielsen are using data science. Eija framed the session by showing how YLE use data science to guide user relationships and recommendation and also provided a handy definition of three key terms: data science produces insights, machine learning produces predictions and artificial intelligence produces actions.
Nielsen's Jonathon Wells uses Bayesian theories of statistics to model viewing when available research data is thin, reducing zero cells and wobble in the data. Facebook is synonymous with the term data science and Mark Riseley focused specifically on a number of applications, including cryptography. For BBC's David Teague data science is the route to optimising experiences, driving people to other BBC services and delivering the right content when they get there. He also made an impassioned plea for more staff and included a handy test. You are a statistician if the following makes you laugh:
Bill Gates walks into a bar…
..on average everyone got richer.
The joke highlights the dangers in reducing data to top line averages and one of my challenges on this review has been to reduce the thinking from three days of enjoyable and insightful papers and debate into around 3000 words. To avoid any memory decay effects at the end of each day we shot three short videos after the audience had left with a panel of delegates summing up the main themes of each day. These 'Afterthought Videos' are available below this article, with many thanks to the contributors.
We are very grateful to GfK, Triton Digital and Nielsen for their continued support in sponsoring the International Radio & Audio and Television & Video Conferences, and to Ipsos and Comscore for sponsoring the asi Network Social Drinks Receptions, giving attendees the opportunity to share a drink together after very full days. We also thank RSMB for its continuing support for the Tony Twyman Awards.
If you did not attend this year, or want to remind yourself, some of the papers and sessions are available via our Vimeo site. You can request updates on next year's conferences by going to our Contact page.
The destination for next year's event is not yet confirmed, but it will be on 4th-6th November 2020 and, following a conference in which many initiatives were unveiled, there will certainly be much to report back on, wherever in the world we land!
Afterthought Video I (Wednesday 6th November)
Afterthought Video II (Thursday 7th November)
Afterthought Video III (Friday 8th November)
2019 Tony Twyman Award for Radio & Audio winning paper
2019 Tony Twyman Award for Television & Video winning paper
This article was written by Richard Marks, Research Director, asi