asiCast 94: Quality over quantity in the attention economy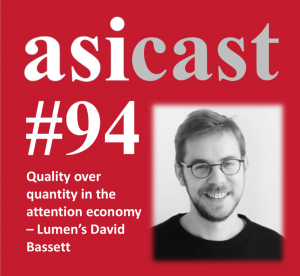 Lumen has for a number of years used eye tracking to measure and predict visual engagement. This attention-tracking data was originally developed to help advertisers optimise their creative work but has now been developed to help assess the attention value of different media.
In this asiCast Richard Marks speaks with Lumen's Director of Analytics David Bassett about the company's current work which is looking at the care that needs to be taken in producing ads specific to mobile.
In the last six months Lumen has developed some revolutionary technology to help understand the particular differences that apply to mobile. Its webcam eye-tracking software allows for large-scale eye-tracking projects on live websites on mobile phones. Mobile ads can be tested in context anywhere in the world.
There are significant learnings to be taken from this approach and delegates to this year's International Publishing & Data Conference in Lisbon can be amongst the first to hear how a closer understanding of how people view mobile ads can help them get their creative work right.
David Bassett will be speaking at the 2019 asi International Publishing & Data Conference in Lisbon, Portugal, on 12th -13th September.
To listen to the interview, just press play below or click here.

Subscribe to our RSS feed for automatic updates to our asiCasts.