asiCast 147 Conference Preview: Synthetic data and virtual IDs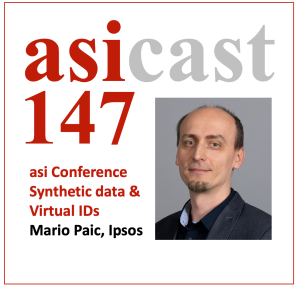 The volume of data now available to us from different devices, together with the need to protect peoples' privacy, has made understanding audience behaviour extremely difficult. Increasingly the industry has been turning towards the use of synthetic data to enhance the modelling of audiences and bring together different data sets whilst preserving data privacy.
In this asiCast Mario Paic, Chief Data and Research Officer, Audience Measurement, at Ipsos talks with our Research Director Richard Marks about the use of synthetic data. They discuss what is meant by the term, how it relates to media research and examples of projects currently using this approach.
As Mario has discussed at previous asi conferences, this approach requires a balance to be struck between measurement and modelling. How do we determine what the optimum balance should be?  With an increased emphasis on modelling and algorithms, we know that agencies are investing more and more in data scientists. What is the difference between a statistician and a data scientist when it comes to media measurement specifically?
Mario is speaking at the 2022 asi International Television & Video Conference on 2nd-4th November in Nice, France.
Mario Paic talks with Richard Marks:
You can also listen to the interview by pressing play below or click here.

Subscribe to our RSS feed for automatic updates to our asiCasts.
This asiCast is also available via YouTube, Spotify and iTunes – just click on the icons: