asiCast 116: Understanding esports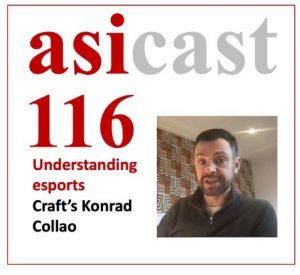 Recent research conducted by Craft has cast some light onto the size and characteristics of the emerging esport audience. Our Research Director, Richard Marks, spoke with the agency's Founder, Konrad Collao, about the insights that were gathered.
Whilst esports is of interest to Craft as a cultural phenomenon, its growth was also a significant element in any further examination into the 'blindspot' of unmatched viewing to television – an issue that the agency addressed at the asi International Television &Video conference in Budapest in 2016.
How should we define esports and distinguish it from gaming? What are the influences driving its growth and where does it look like the growth is coming from? As the audience grows, it becomes increasingly interesting to advertisers and there are special considerations that need to be kept front of mind when addressing this group. How will broadcast rights work?
You can view the full interview below and watch a summary video of the research Craft conduct here.
Konrad Collao talks to Richard Marks:
You can also listen to the interview by pressing play below or click here.

Subscribe to our RSS feed for automatic updates to our asiCasts.