asiCast 98: Jane Clarke talks television attribution and cross-media measurement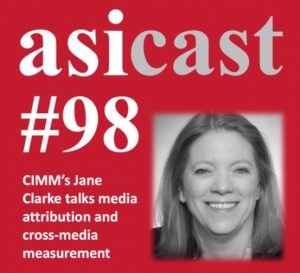 In this asiCast interview our Research Director, Richard Marks, talks with Jane Clarke,  Managing Director of CIMM (the Coalition for Innovative Media Management) in the US.
Television attribution is a relatively new data science discipline that started in digital media measurement with Multi-Touch Attribution (MTA) – but TV hasn't always had the kind of data to provide such granular analyses. The granular TV viewing data now available via set-top boxes and Smart TVs offers the opportunity for data scientists to match these data in a privacy compliant manner with business outcome measures.
There is a scramble to use these data as they hold out the promise of providing greater precision in targeting and more efficient reach management, for example, than panel-based measurement can provide. However, there is a growing awareness of the 'error of numbers' when people are dazzled by the size of the datasets and disregard the fact that they are not representative of anything nationally. There is consequently a lack of confidence in the reliability of the data for decision making.
Jane and Richard also discuss the cross-media initiatives published recently by the Media Ratings Council (the MRC) in the States and the World Federation of Advertisers (the WFA). Will we ever be able to achieve a genuinely comparable cross-media measure?
Jane Clarke will be speaking at this year's International Television & Video Conference on 6th-8th November 2019 in Prague, Czech Republic.
To listen to the interview, just press play below or click here.

Subscribe to our RSS feed for automatic updates to our asiCasts.
Comments