asiCast 158: 2023 financial prospects for media, tech and advertising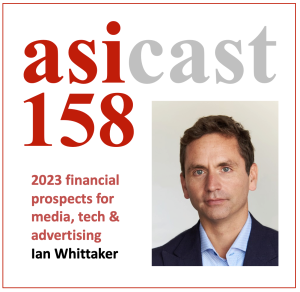 What are the current prospects for advertising spend this year and how have media agencies been doing? In what will be an occasional series looking at the financial outlook for the sector, our Research Director Richard Marks caught up with financial analyst Ian Whittaker, Founder of Liberty Sky Advisors.
More generally Richard and Ian considered the broader economic climate and whether the difficulties post-pandemic were likely to be resolved with a 'soft-landing'. For the media and tech industries, will there be regional differences in the winners and losers? What are the prospects for the tech sector in particular given the huge numbers of staff that have been laid-off in recent months? For broadcasters, how is the drift of viewing away from linear to on-demand affecting their long-term viability?
Ian Whittaker talks with Richard Marks:
You can also listen to the interview by pressing play below:

Subscribe to our RSS feed for automatic updates to our asiCasts.
This asiCast is also available via YouTube, Spotify and iTunes – just click on the icons:
Comments