asiCast 157: Total Video Measurement and the myth of Sisyphus – the Swedish experience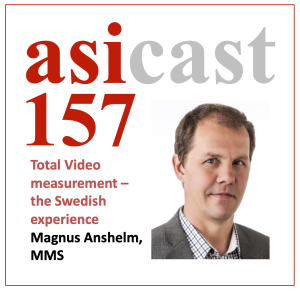 What TV currencies should be measuring is constantly under review in all markets. Recently the service towards providing Total Video Measurement has been expanded and in this interview our Research Director Richard Marks speaks with Magnus Anshelm, CEO at MMS, about what they are currently measuring and what is on the roadmap for the measurement of both content and ads.
For a number of years MMS had been working together with Google and the interview outlines what they were looking to achieve and why the relationship came to an end last year. Richard and Magnus turn to three key issues that need to be resolved.
The first relates to duration where there is a clear conflict between broadcasters and the native online platforms about what constitutes a minimum threshold that defines an impression or contact for an advertiser.
Secondly, there is the question of the importance of quality environment. In asiCast 155 Richard discussed with Justin Sampson of Barb Audiences whether their 'Fit for TV' definition established a clear dividing line between television and social video. Are we effectively saying that TV and online video are different and distinct media and, if so, where does that leave all attempts at total video measurement. Is this just a futile Sisyphean task?
The third issue relates to the measurement of online video advertising, specifically that of broadcaster video services. CFlight has been launched in the UK and recent initiatives such as TTVAM have been announced in Finland. Richard discusses with Magnus the current direction of travel in Sweden.
These issues are also addressed in an article by Thinkbox's Research Director, Matt Hill, published today in the Media Leader, and will be discussed at this year's asi International Television & Video Conference on 8th to 10th November in Nice, France.
Magnus Anshelm talks with Richard Marks:
You can also listen to the interview by pressing play below:

Subscribe to our RSS feed for automatic updates to our asiCasts.
This asiCast is also available via YouTube, Spotify and iTunes – just click on the icons:
Comments