asiCast 149: TV's next revolution – OEM data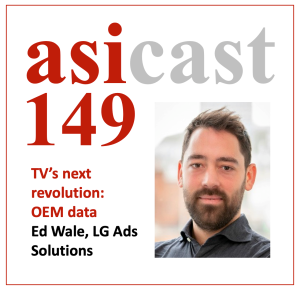 Data from Smart TV set manufacturers provides important insights into changing patterns of viewing behaviour. In this asiCast, our Research Director, Richard Marks, speaks with Ed Wale, VP Europe, LG Ads Solutions, about how data from Original Equipment Manufacturers (OEMs) is gathered and where it comes from.
The acronym FAST (Free Ad Supported Television) is increasingly used to describe platforms on connected TVs (CTV), but what distinguishes FAST from other AVOD services also available on connected televisions? Richard and Ed discuss opportunities CTVs present to advertisers.
Whilst there is a great deal of excitement about the granularity of the data available to advertisers and their agencies from OEMs, there is also some concern that this will result in yet more walled gardens of data exclusive to each manufacturer. To what extent will there be collaboration between OEMs to make their collective data available to the market?
Ed Wale will be speaking at the 2022 asi International Television & Video Conference in Nice, France, on 2nd to 4th November.
Ed Wale talks with Richard Marks:
You can also listen to the interview by pressing play below or click here.

Subscribe to our RSS feed for automatic updates to our asiCasts.
This asiCast is also available via YouTube, Spotify and iTunes – just click on the icons:
Comments