asiCast 146 Conference Preview: Attention – the cost and value equation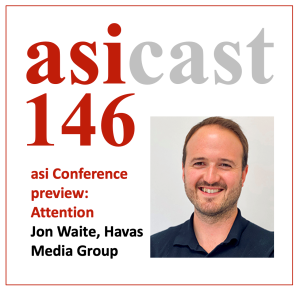 We have been looking to apply proxies for attention since whenever – seeking to have ads appearing first in break or on the outside back cover. Now technology appears to provide the opportunity to measure attentiveness and Brian Jacobs of BJ&A talks to Jonathan Waite, Global Director of Havas Media Group, about the work he has been doing to integrate attention measures into their planning and buying systems so that they can be considered alongside the standard reach, frequency and cost metrics. The attention measures derive from a three-year partnership arrangement Havas has with research company Lumen.
Brian and Jonathan discuss how ten years of digital buying have seen context largely ignored and the recent focus on attention has brought to the fore the importance of where we place ads. This now seems to be acknowledged with auditors considering the inclusion of attention factors in their assessments which may well help in a procurement process otherwise characterised as a race to the bottom.
Jonathan Waite and Mike Follett, Managing Director of Lumen, will be speaking at the 2022 International Television & Video Conference in Nice, 2nd to 4th November.
Jonathan Waite talks with Brian Jacobs:
You can also listen to the interview by pressing play below or click here.

Subscribe to our RSS feed for automatic updates to our asiCasts.
This asiCast is also available via YouTube, Spotify and iTunes – just click on the icons:
Comments