asiCast 142: Cross-media, alt. currencies and the challenge of global standards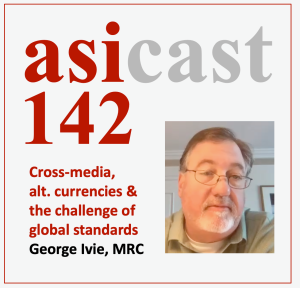 The significance and influence of the Media Ratings Council (MRC) in the US is well-known, but it is increasingly receiving world-wide attention and interest following the launch of the cross-media initiative of the WFA and the projects undertaken by the ANA in the States and ISBA in the UK.
George Ivie, the CEO of the MRC, discusses here with asi's Research Director, Richard Marks, the Council's business model, the mandate it was given by Congress when it was established and some of the challenges it faces during the next five-year term to which George has recently been appointed. These include in-game advertising, resolving some of the difficulties associated with measuring Connected TV (CTV), cross-media measurement and the introduction of standards to data quality and the attribution of outcomes. The Outcomes and Data Quality Standards document was published on the 21st September when this interview was conducted and can be accessed here.
George also talks with Richard about the other strand of the MRC's work – the audit cycle which sees the Council providing assurance that the measurement services of more than 100 media types they engage with are valid, reliable and effective.
Many of the issues raised in this interview will be discussed at 'Data of all sizes', this year's asi International Television & Video Conference, 2nd to 4th November, in  Nice, France.
George Ivie talks with Richard Marks:
You can also listen to the interview by pressing play below or click here.

Subscribe to our RSS feed for automatic updates to our asiCasts.
This asiCast is also available via YouTube, Spotify and iTunes – just click on the icons:
Comments