asiCast 167: Podcast discovery and measurement – what makes podcasts different from radio?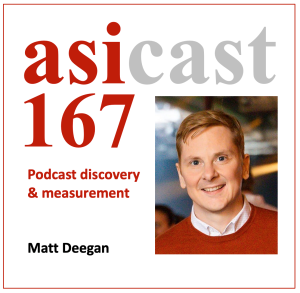 How should podcasts launch into what has become an incredibly crowded marketplace? Measuring success is equally challenging and in this podcast our Research Director Richard Marks discusses with Matt Deegan, Director of Podcast Discovery, some of the difficulties following the launch of Edison's Podcast Ranker in the UK.
Another key issue for podcasters is distribution, with some wanting to make their production as widely available as possible whilst others, like the BBC, seek to make their content exclusive to their own platform or app. Which is more important – reach or data control?
Matt and Richard also talk about the opportunities arising from AI and how it is being used in audio production where it seems to be ahead of the curve relative to video.
Matt will be speaking at this year's asi International Radio &Audio Conference in Nice on November 8th. Matt's blog, The Media Podcast can be found here.
Matt Deegan talks with Richard Marks:
You can also listen to the interview by pressing play below:

Subscribe to our RSS feed for automatic updates to our asiCasts.
This asiCast is also available via YouTube, Spotify and iTunes – just click on the icons: