asiCast 121: The Tony Cowling Foundation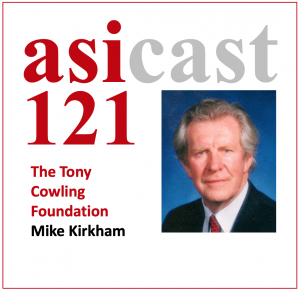 There is no doubt that the research industry has been transformed over the last few decades by rapid developments in technology. Where market research was once characterised by interviewers with clipboards asking people questions, it has now been transformed into an industry driven by modern tech and the internet.
It's very welcome that a group of former colleagues of Tony Cowling, the man who created one of the world's largest market research companies, Taylor Nelson Sofres (TNS), has set up a not-for-profit Foundation to recognise and honour the contribution he made to the industry throughout his career.  Tony died just over a year ago, and the newly-formed Tony Cowling Memorial Research Fund will finance post-graduate work at Cambridge University's Judge Business School focusing on technological solutions in the areas of social, market and opinion research.
Mike Kirkham, former CEO of TNS, is one of the leaders of this initiative. He worked closely with Tony for more than fifteen years and explains: 'Tony was a visionary and a stimulating man to work for. He was committed to the values of inclusion, innovation and internationalism. We want to create a memorial worthy of a man who had such a positive influence on so many people. It will celebrate and perpetuate those values.'
Alongside this, the Foundation is working with ESOMAR and intends to help fund young people from around the world to participate in ESOMAR courses.
Together with Cambridge Judge Business School and ESOMAR, the Foundation has also established a group working on international standards for the application of Artificial Intelligence in market research.
The Foundation has just started fundraising and has set an initial target of £250,000. If you would like to know more you can visit its website.
In this asiCast, asi's Research Director Richard Marks discusses the establishment of the Foundation with Mike Kirkham:
You can also listen to the interview by pressing play below or click here.

Subscribe to our RSS feed for automatic updates to our asiCasts.
This asiCast is also available via YouTube and Spotify – just click on the icons: