asiCast 115: How the UK views SVOD content – TRP's David Raybould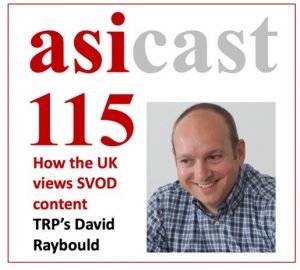 In this asiCast our Research Director Richard Marks speaks with David Raybould, Chief Operating Officer of TRP, about its survey of SVOD viewing in the UK.
Broadcasters, content distributors and rights owners are increasingly interested in the granular measurement of SVOD content at the series and episode level across all devices and it is this perceived gap in the market that TRP seeks to fill with the launch of its Codex product. In addition, Codex identifies and quantifies all viewing that BARB can't identify and currently classifies as 'unmatched'.
Richard discusses with David the origin of the survey, how it is conducted and some of the insights into how SVOD is consumed. What changes in behaviour have been observed during the pandemic?
How does the growth of both SVOD and BVOD change the way we analyse and report the lifecycle of broadcast programmes?
You can get more information about accessing the TRP Codex survey here.
David Raybould talks to Richard Marks:
You can also listen to the interview by pressing play below or click here.

Subscribe to our RSS feed for automatic updates to our asiCasts.