asiCast 162: Has the online advertising bubble burst?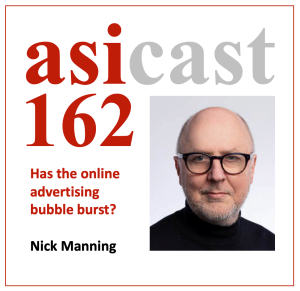 For 20 years or so it seems the advertising industry has been dominated by the supply side. The internet was the only game in town and its rapid development seemed to be funded with an unlimited supply of advertising money. In this period advertisers felt compelled to invest in digital as that was where they believed the audience was going, but in a recent article one of the UK's most influential thought leaders in advertising, Nick Manning, argued that this bubble has finally burst.
In this asiCast, Brian Jacobs, Founder and CEO of BJ&A, speaks to Nick about this long period, which he had described in his article as one 'of meteoric but unrealistic growth…..buoyed up by insane levels of adspend not justified by effectiveness or efficiency.' If the industry is now at a crossroads, where do we go from here? Maybe the time is right for resetting the dial.
The discussion highlights the extent to which these issues are critical to the efforts underway to develop cross-media measurement standards. The currency funding the internet advertising model has been 'impressions' and, in Nick's view, everybody mistakenly seems to think this is equivalent to audience, and this is something that needs to be challenged. (It will undoubtedly feature at our conferences this coming November in Nice.)
During the interview, Nick Manning refers to 'fame' as an essential goal of brand-building. Paul Feldwick was interviewed here on the subject shortly after publication of his excellent book, Why does the pedlar sing?.
Nick Manning talks with Brian Jacobs:
You can also listen to the interview by pressing play below:

Subscribe to our RSS feed for automatic updates to our asiCasts.
This asiCast is also available via YouTube, Spotify and iTunes – just click on the icons:
Comments