asiCast 136: Measuring broadcaster impact and value – the next research challenge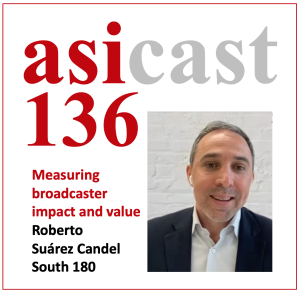 How can broadcasters best demonstrate the impact, value and positive contribution they make to society? Public service broadcasters are always being challenged about their funding and we have recently seen a referendum on the subject held in Switzerland, persistent pressure placed on the BBC in the UK and, ahead of elections in France, President Macron threatening to end the licence fee there.
In this asiCast, our Research Director, Richard Marks, interviews Roberto Suárez Candel, formerly Head of Strategy and Media Intelligence at the European Broadcasting Union and now CEO of an international consultancy, South 180. South 180 provides consultancy services to senior management who recognise that this need to demonstrate the impact and value brought by their organisations to wider society is not just a requirement for broadcasters but for all companies at a time when consumers, partners and investors want to know the results of what is being done and also the consequences.
Whereas in the past research companies have reported on what has happened in terms of viewing/listening figures, they now have the opportunity to take the next step and help broadcasters understand the impact their communication is having on consumers. What are the consequences and results of consuming this content and how is it received by the public? Audience measurement researchers are in a good position to provide this additional value and impact data – often maybe in association with other companies with specialist areas of expertise, such as public health.
Roberto Suárez Candel talks with Richard Marks:
You can also listen to the interview by pressing play below or click here.

Subscribe to our RSS feed for automatic updates to our asiCasts.
This asiCast is also available via YouTube and Spotify – just click on the icons:
Comments