asiCast 117: Netflix, the studios and the battle for content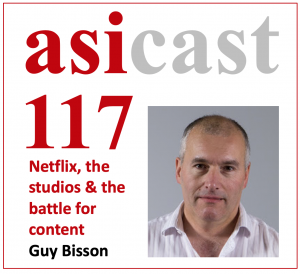 Although Netflix has been burdened with huge debt, Guy Bisson, a Director of Ampere Analysis, predicted some while ago that eventually an inflexion point would be reached when revenue would exceed expenditure. In this asiCast, our Research Director Richard Marks explores with Guy the significance of this landmark and the implications for the future.
Some in the advertising industry have always argued that the Netflix model was unsustainable and that at some point it would need to accept advertising. Does this seem now even less likely? Meantime a linear channel is being piloted in France – Netflix Direct. How does this fit into their strategy?
When considering this move into linear, is there any evidence that Amazon's coverage of the Premier League, Tennis and Rugby is proving successful?
Disney + had a great launch – has that initial success been maintained?
The latest Bond movie has been delayed again. Is this because EON doesn't have a link to a streaming platform so can't follow the lead of Disney+ with Mulan or HBO with Wonder Woman? Does this indicate that movies are functioning as much as enticements to subscribe as money makers in their own right? Does this suggest we will see fewer and fewer pureplay film companies?
When considering all these developments, Richard asks Guy how difficult it is for market analysts to separate the 'noise' of the pandemic crisis from permanent long-term changes in consumer usage and brand strategy.
Guy Bisson talks with Richard Marks:
You can also listen to the interview by pressing play below or click here.

Subscribe to our RSS feed for automatic updates to our asiCasts.
Comments