Registration now open for 2020 asi Virtual Conference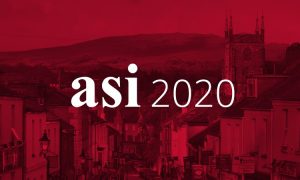 You can now register for the 2020 asi Virtual Conference. There is NO FEE for attending this event. We will be hosting five two-hour sessions across five days (Monday 2nd to Friday 6th November 2020) starting at 09:30 (London time) each day. We will also release additional material – video interviews and presentations related to each session. The sessions will be available for catch-up viewing for those who have timezone challenges.
You will need to register separately for each session you wish to attend – see schedule below. As there will be a limited number of places, we encourage you to book early and ask that you book only those sessions you are likely to attend. We also ask that you cancel your registration if for any reason you are unable to attend so that we can allow someone else to take your place. You can cancel your registration via your confirmation email.
Details of the agendas will be updated on our Conference Programmes webpage.
BOOKINGS CLOSE: Friday 23rd October
Monday 2nd November

Future-proofing audio measurement: what has 2020 taught us about listening and its measurement?
How many radio measurement services around the world were affected by the COVID crisis and how are they responding in the short and long term? What have those services that managed to keep going learnt about the impact of the crisis on radio and audio consumption? Has the balance permanently shifted towards passive and online forms of data collection for radio and audio? Meanwhile, are streaming solutions growing in importance and is there anyone out there who hasn't set up a podcast by now?
Click here to register for Monday 2nd November 09:30-11:30 (London time)
Tuesday 3rd November
The future of content delivery: how will linear and on-demand content coexist?
With broadcasters looking towards their own VOD services to counter the deep pockets and global reach of SVOD players, what is the optimum business model in terms of the balance between advertising and subscription and between linear and VOD offerings? Has the crisis had a lasting impact on viewing, content production and sports rights?
Click here to register for Tuesday 3rd November 09:30-11:30 (London time)
Wednesday 4th November
Beyond exposure: is it time for an attention-based gold standard?
We will be exploring the whole concept of 'attention' to media channels and to the ads that appear within them. How should we define it, and measure it? How can we best use it in planning campaigns? Should we be considering incorporating it into the currency measures? And do the same rules and principles extend beyond video media forms?
Click here to register forWednesday 4th November 09:30-11:30 (London time)
Thursday 5th November
Frictionless measurement: has COVID-19 changed measurement forever?
The pandemic is far from over, but we will try to evaluate its long-term impact on how we measure audiences. How can measurement services be made more resilient to future crises? With changed public attitudes to direct contact, home visits and increased openness to virtual contact, how can measurement become more frictionless? Will economic pressures encourage greater co-operation and sharing of resources between different currencies?
Click here to register for Thursday 5th November 09:30-11:30 (London time)
Friday 6th November
When you wish upon a (North) star: will the cross-media dream come true?
The drive towards cross-media measurement, conducted at a pace well below the speed limit over the last few decades has now been greatly accelerated by the formulation of a WFA global framework. We look at how that can be applied at a local level, specifically with the UK Project Origin pilot. What is needed for it to succeed? What other solutions could provide inputs or alternatives? Could better solutions be developed organically at a local level from the ground up? Most importantly, what do we really mean by 'cross-media measurement' in the first place?
Click here to register for Friday 6th November 09:30-11:30 (London time)
We will not be charging for attendance. This is a vital time for the media research industry and we feel that it is important that as many people as possible are able to attend and share ideas. We see this as a service to our community to contribute to the future success of our industry and provide the opportunity to link up and share work and ideas before what we hope will be a more normal gathering in 2021.
Our sincere thanks go to those who are kindly supporting this event: Comscore, GfK, Ipsos, Kantar, Médiamétrie, Nielsen, RSMB and Triton Digital.