asiCast 161: A hybrid future for audio measurement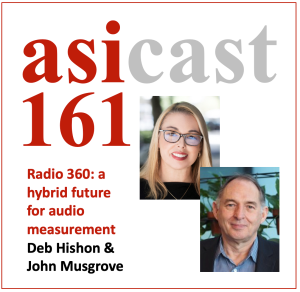 Commercial Radio Australia (CRA) has introduced a hybrid audience measurement system Radio 360 to better measure listening everywhere and at any time across all platforms. Having tracked the development of this project over the last few years at our annual conference, in this podcast our Research Director Richard Marks speaks with the CRA's Head of Research, John Musgrove, and GfK's Media Measurement Director in ANZ, Deb Hishon, about the journey to the launch.
Initially delivering broadcast and streaming audience figures for radio stations across the five major metro markets, a second phase planned for 2024 will integrate podcast metrics to provide a de-duplicated view of radio and podcast audiences.
Radio 360 integrates data from three different sources into one currency and Richard Marks discusses some of the data science challenges that arise. Deb also outlines the contribution made by the 2,000-person panel wearing the GfK MediaWatch which picks up radio listening when the wearer is in range of a radio station.
Deb and John discuss the main benefits of Radio 360 for both media planners and buyers, and the radio stations.
At the 2023 asi International Radio & Audio Conference in Nice on November 8th, Deb will provide an update on the impact this new system has in the market.
Deb Hishon and John Musgrove talk with Richard Marks:
You can also listen to the interview by pressing play below:

Subscribe to our RSS feed for automatic updates to our asiCasts.
This asiCast is also available via YouTube, Spotify and iTunes – just click on the icons: